Conference "Towards a Qualifications Framework for International Education"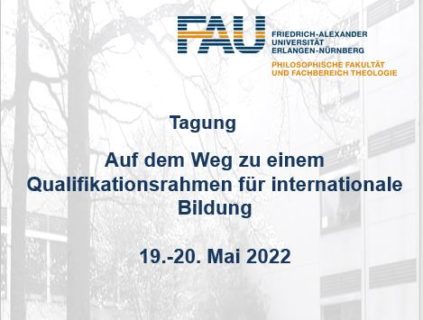 NB: New date of the conference due to the pandemic!
From 19 to 20 May 2022, the conference "Towards a Qualification Framework for International Education" will take place at the Friedrich-Alexander-Universität Erlangen-Nürnberg. The conference was planned for December 2021 but had to be postponed to the new date due to the pandemic. The conference will focus on theoretical and empirical research on professionalization at different levels and in different sectors of International Education and on development and evaluation of training courses and degree programmes, certification, and recognition of professional qualifications in this field.  The conference is organised by the Chair Diversity Education and International Educational Research and is aimed at researchers and practitioners in the field of international education. The conference will take place – depending on the epidemiological situation – as on-site event with the possibility of virtual participation. The conference language is German, international participants will receive an overview of the conference topics through abstracts in English, and are invited to take part in an international panel in English.
The deadline for submissions: 25 March 2022.
You will find the call for papers (in German) here.
You wil find the tentative schedule overview (in German) here.
Further information about the registration etc. will be published on this page later.
The conference organizing committee
Prof. Dr. Anatoli Rakhkochkine and Maren Hanneken
Friedrich-Alexander-Universität Erlangen-Nürnberg
Faculty of Humanities, Social Sciences, and Theology
Chair of Diversity Education and International Educational Research
Regensburger Straße 160
90478 Nürnberg (Bavaria)/ Germany