FAU Visiting Professor Lilach Marom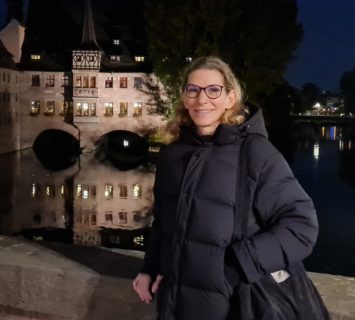 The Chair of Diversity Education and International Education Research welcomes PhD Lilach Marom as FAU Visiting Professor in Nürnberg.
Lilach Marom is a faculty member, chair of the Department of Educational Studies, and Arts Senator at Kwantlen Polytechnic University. Her research is focused on questions of diversity, equity, and social justice in education. It aims to highlight structural and institutional barriers to the access and success of students of marginalized backgrounds, as well as to the diversification of teacher education and the teaching profession.
Lilach Marom has worked as an educator in multiple locations and countries (Israel, the United States, and Canada) with culturally and racially diverse populations. Through these experiences she came to realize that there is no one "right pedagogy," but that education must be grounded in concrete social contexts, and answer to the diverse needs of the communities it is serving.  Lilach Marom's current projects explore the experiences of international students in Canadian higher education, as well as EDI (Equity, Diversity, Inclusion) in higher education. Her research has appeared in publications such as, Review of Education, Pedagogy, and Cultural Studies (2017), Teaching and Teacher Education (2019/2020), Race Ethnicity and Education (2019), Critical Studies is Education (2019), and Globalisation, Societies and Education (2021).
During her visit at FAU (18 – 25 October 2021), Lilach Marom aims to discuss issues related to international education, teacher's certification, and the diversification of the teaching profession in the German and European context. She is happy to support student's projects and develop diverse forms of collaboration.